Length on Deck: 36' 8" (11.2 m)
Length Overall: 42' 2" (12.9 m)
Length at Waterline: 30' 10" (9.4 m)
Beam: 11' 6" (3.5 m)
Draft: 5' 8" (1.75 m)
Displacement: (dry) 22,500 lbs. (10.2 ton)
Ballast (Internal): 7,340 lbs. (3.3 ton)
Basic Sail Configuration: Cutter one mast and three standard sails, about 900 square feet (90 sqm) total sail area
Engine: 44 HP Diesel YANMAR
Fuel Tankage: 90 gallons (340 liters)
Water Tankage: 100 gallons (379 liters)
Vertical Clearance: about 55 (16.8m) feet above the waterline.
Designer: Robert (Bob) Perry
Manufacturer: Ta Yang Yacht Building Co.
Hull #132, build in 1977
The Tayana 37, with its double-ended stern, trunk cabin and cutaway full keel, is an outstanding passage-maker. The popularity of this proven, bluewater veteran, and the availability of good brokerage Tayana 37's, make them an exciting choice for those with limited budgets, but unlimited cruising plans.

S/V Radiance specifications.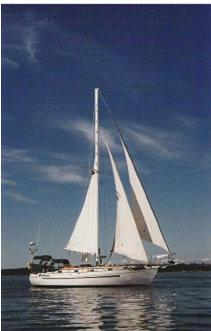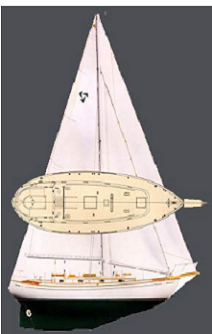 Bob Perry designs account for approximately 5,000 boats on the water and are recognized as the epitome of offshore cruising yachts. There are more Tayana 37's cruising offshore than an other single design according to George Day, the Editor of BLUE WATER CRUISING.